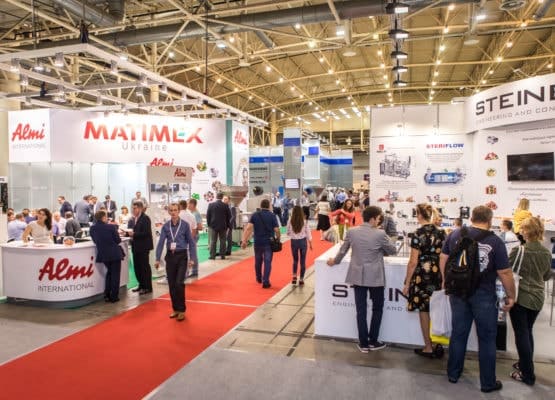 | | |
| --- | --- |
| Event: | 20 International Exhibition of Packing Industry – UPAKOVKA |
| Dates: | September 10 – September 12, 2019 |
| Organizer: | ACCO International Company |
| Supported by: | Ministry of Agrarian Policy and Food of Ukraine; UKRHLIBPROM association of baking industry enterprises; Ukrkondprom association of confectionery manufacturers; UKRMOLPROM national association of milk manufacturers; UKRMYASO national association of meat and meat product manufacturers |
Post-event press release
From 10 till 12 September 2019, Ukrainian Food Technology Forum was held in Kyiv. This event combined several trade fairs:
– INPRODMASH, International trade fair of equipment and technologies for food processing industry;
– UPAKOVKA, International trade fair of equipment and materials for packaging industry;
– SWEETS Ukraine, Trade fair for confectionery industry;
– BAKERY Ukraine, Trade fair for baking industry.
Opening ceremony was attended by:
Volodymyr Lapa, Head of the State Service of Ukraine on Food Safety and Consumer Protection;
Liudmyla Homichak, Acting Director of Food Department of the Ministry of Agrarian Policy and Food of Ukraine;
Oleksandr Vasylchenko, General Director of Ukrhlibprom Association;
Oleksandr Baldyniuk, President of Ukrkondprom Association;
Vasyl Bondarenko, Chairman of the Board of Ukrmolprom Association;
Oleksandr Lavrynchuk, Co-Chairman of Millers of Ukraine Union;
Reinoud Nuijten, Agricultural Counsellor, Embassy of the Kingdom of Netherlands in Ukraine;
Zafer Kirmizitas, Director of ZED EXPO and organizer of Turkish exposition.
Today Ukraine's food processing industry covers almost 90% of the domestic market demand in high-quality food products. Share of food processing industry is 5% in GDP, 6% in the amount of direct foreign investments, over 20% in the volume of sold agro-industrial products, over 50% in exported agro-industrial products, and almost 90% in the amount of budget revenues from agro-industrial sector. Trade fairs within the Ukrainian Food Technology Week contribute to the advanced processing of agricultural raw materials and development of agro-food value chains, thus promoting the growth of agro-industrial sector and export of food products made in Ukraine. Due to their international reputation and importance to Ukraine's economy, they are included in the list of trade fairs supported by the Ministry of Agrarian Policy and Food of Ukraine.
Exhibitors at INPRODMASH 2019 showcased machinery and equipment for meat processing, dairy, canning, oil-and-fat, fish, baking, confectionery and other food industry sectors, poultry and cattle farms. Materials used for food manufacturing, food ingredients and food additives were offered as well.
Exhibitors at UPAKOVKA 2019 showcased modern packaging materials, technologies and equipment for small and large manufacturing, commercial and HoReCa enterprises.
Leading manufacturers and suppliers from Ukraine, the Netherlands, Turkey, Belgium, Germany, Poland, Spain, Italy, Lithuania, China, France, Sweden and Switzerland participated in the trade fairs to introduce their new and innovated products.
Exhibiting companies of the Holland Pavilion offered innovative technologies for meat and milk processing, baking industries; storage and processing of vegetables, fruits and berries; production of frozen foods. Exhibiting companies of the Turkish exposition offered packaging machinery; meat and vegetable processing machinery; kraft paper bags; baking pans, trays and trolleys, etc.
Business program included several conferences organized by sector associations for meat and milk processing, baking and confectionery companies.
НАССР with Your Own Hands: Innovations, Challenges, Decisions, a workshop by leading industry experts, included discussions on the following topics:
• Blank spots in food standardization;
• New quality and safety requirements for dairy products as preconditions for effective operation of НАССР system;
• Requirements for food packaging within НАССР system;
• Extended producer responsibility for use, collection and recycling of packaging waste.
Ukrainian Food Technology Forum provided for communication of professionals, exchange of best practices, search for new partnerships, and establishment of business contacts.