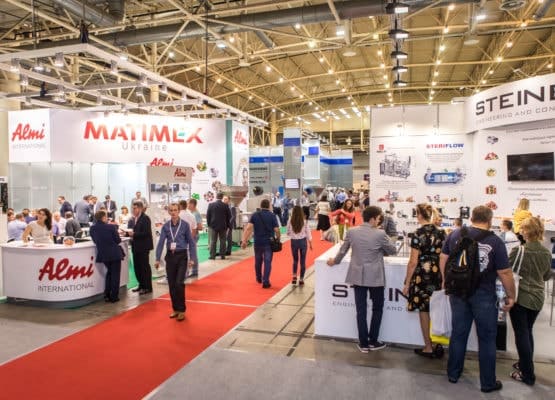 | | |
| --- | --- |
| Event: | 21 International Exhibition of Packing Industry – UPAKOVKA |
| Dates: | September 14 – September 16, 2021 |
| Organizer: | ACCO International Company |
| Supported by: | Ministry of Agrarian Policy and Food of Ukraine; UKRHLIBPROM association of baking industry enterprises; Ukrkondprom association of confectionery manufacturers; UKRMOLPROM national association of milk manufacturers; UKRMYASO national association of meat and meat product manufacturers |
Press Release
From 14 till 16 September 2021, the Ukrainian Food Technology Forum will be held in Kyiv, Ukraine. This event comprises several trade fairs:
– INPRODMASH, International trade fair of equipment and technologies for food processing industry;
– UPAKOVKA, International trade fair of equipment and materials for packaging industry;
– SWEETS Ukraine and BAKERY Ukraine, trade fairs for confectionery and baking industry.
Today Ukraine's food processing industry covers almost 90% of the domestic market demand in high-quality food products. The share of food processing industry is 5% in GDP, 6% in the amount of direct foreign investments, over 20% in the volume of sold agro-industrial products, over 50% in exported agro-industrial products, and almost 90% in the amount of budget revenues from agro-industrial sector.
Implementation of innovative technologies is a key to successful development of Ukraine's food processing industry. Trade fairs within the Ukrainian Food Technology Forum contribute to the advanced processing of agricultural raw materials and development of agro-food value chains, thus promoting the growth of agro-industrial sector and export of food products made in Ukraine as well.
Exhibitors at INPRODMASH 2021 will showcase machinery and equipment for meat processing, dairy, canning, oil-and-fat, fish, baking, confectionery and other food industry sectors, for poultry and cattle farms. Materials used for food manufacturing, food ingredients and food additives will be offered as well.
Exhibitors at UPAKOVKA 2021 will showcase modern packaging materials, technologies and equipment for small and large manufacturing, trading and HoReCa enterprises.
Business program will include several conferences organized by sector associations for representatives of meat and milk processing, baking and confectionery companies.
About 7,000 professionals employed in various food industry sectors and agribusiness visit the Forum. Most of them visit every edition to learn about the latest innovations and meet their partners.
The Ukrainian Food Technology Forum is a highly efficient platform for communication of equipment and solution providers with their direct customers, i.e. food manufacturers.